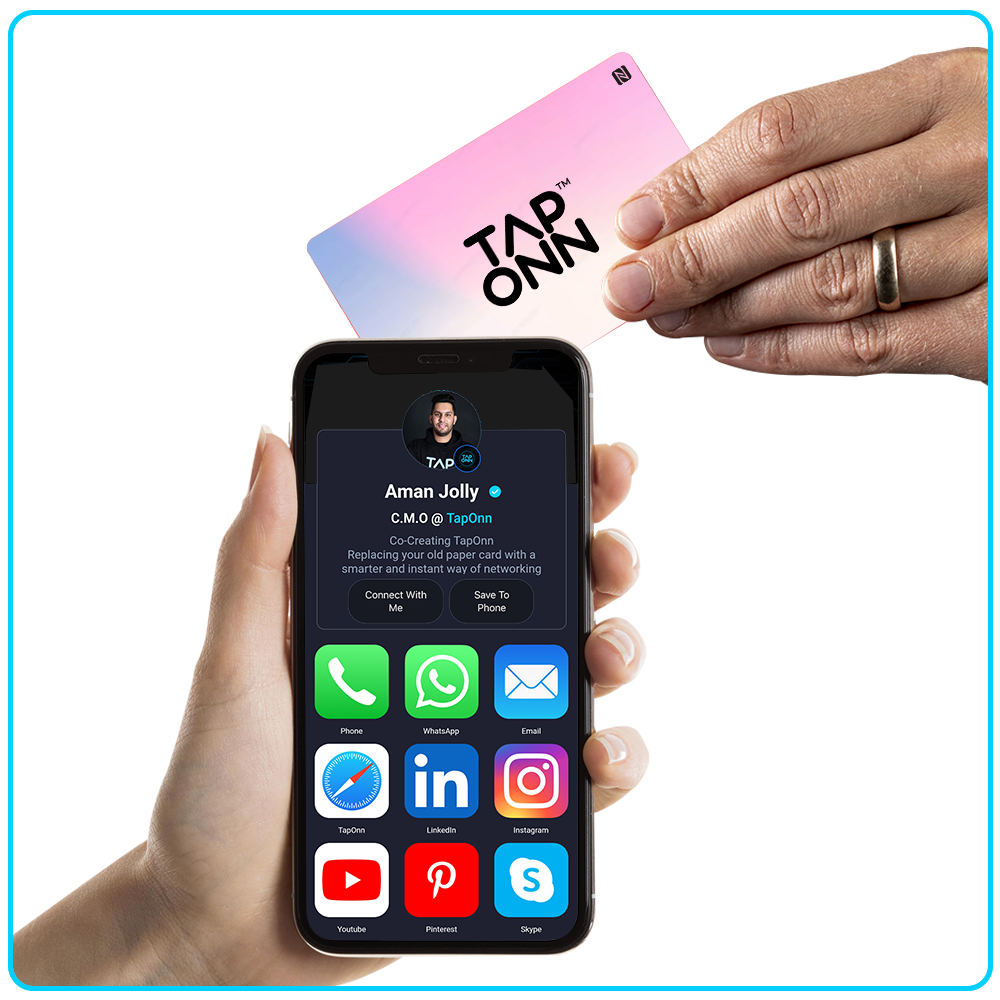 Your Mini Website In One Business Card.
Create your first unique impression &
grow your network by connecting instantly.
With TapOnn, You can share -

1. Download our Free app
2. Set up your profile
3. Activate your card
4. Share all your business into with a Tap
5. The other person dosen't need an app or TapOnn product
FAQ
Need help? We go you covered!
So if you're feel stuck, confused, or just need some extra help, don't hesitate to reach out at support@taponn.digital
TapOnn's smart coins are a convenient and stylish way to share your information with others. They are small in size and can be stuck to the back of your mobile phone, making it easy to connect with others using advanced NFC technology. These smart coins are an effective way to improve your networking skills and build connections. So, if you want to take your networking to the next level, TapOnn's smart coins are perfect.

Who can use smart coins?
Anyone who is constantly looking to expand their network in a simplistic and stylish way can stick our smart coin on there phone and are all set to make connections. 

Are TapOnn's coin waterproof ?
Your phone may not be waterproof but our coins definitely are waterproof.
About TapOnn Smart Sockets

TapOnn's smart sockets are small and convenient devices that make it easy to share your contact information with others while also serving as a stand for your mobile phone. Based on advanced NFC technology, these smart sockets can be attached to the back of your mobile phone and used to share your contact details, social media links, and website links with just one tap.

How does smart sockets work?
Tap your NFC enabled smart socket against another person's device to instantly share your information. These smart sockets are designed to easily hold your mobile phone in one hand, making them practical and stylish option for using your phone on the go,

Why smart sockets?
If you want to improve your networking skills, build connections, and have a convenient way to hold your mobile phone, TapOnn's smart sockets are the way to go.
Does TapOnn share sensitive Information?

TapOnn never asks for any social media passwords or financial information. It simply believes in sharing one's personality through their digital profile. Which makes it easier for people to share their work better. All your Information is safe & can be shared only when you tap your smart product against an NFC-compatible device. 
How to connect without NFC?

TapOnn smart cards are also embedded with your unique QR code. For all smart coins & sockets, A color & logo customizable QR is presented on the app, which can easily be scanned & your digital profile would pop up on the person's device.
How will I design my card?

Select customize your card option, and add relevant details & post purchase our design team will contact you for your design brief and your personalised QR code. They will send you references for final approval before printing.
So if you're feel stuck, confused, or just need some extra help, don't hesitate to reach out at support@taponn.digital
India Tap's Onn
India's Top Professionals Trust TapOnn